Delivery and Shipping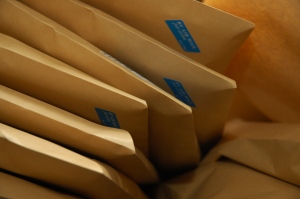 Running the shop isn't our full time job(s) but we try to send out batches of t-shirts/stickers around once a week so depending on where you are in the world, you should receive your stuff within three weeks of ordering it from us. (We'll let you know if it's going to be any longer than that - for example, if we're awaiting new stock - and give you the option of a refund and/or a substitution.)
Postage and Packing costs
Unlike some online stores, we don't make money from the Postage and Packing - the price you pay at the checkout realistically reflects the postage and packaging costs. Consequently, these prices are subject to change in line with the UK's Royal Mail charges.
We spent HOURS trying to work out the best way to charge for P&P and we think we've got a pretty fair system for the vast majority of orders now but big bulk orders may be unfairly penalised - if that's the case, we'll refund the excess once we've posted the parcel.
First Class, Airmail and Surface mail
By default, we send all our international packages by Airmail but we've included the option of Surface Mail in case you want to save a bit of money and don't mind potentially waiting ages and ages for your purchases. Orders within the UK go out by First Class post.
Didn't arrive?
If you haven't received your goods within a month* of purchase, it probably means something has gone awry in the mail so please contact us and we'll re-send your order.
* 8 weeks for North America surface mail; 10 weeks for South America, Asia and Africa surface mail; and, 14 weeks for Australasia surface mail.
Recycle Your Envelope
Because we're greenies at heart, we use recycled envelopes (or brown paper for multiple shirt orders) instead of plastic mail bags. Please try to close the circle by recycling or reusing the packaging again - our other site Recycle This has some creative ways you can reuse envelopes and brown paper, in addition to many other crazy random things, if you're stuck for inspiration.